Is Symone Sanders Related To Bernie Sanders? Husband Name and Family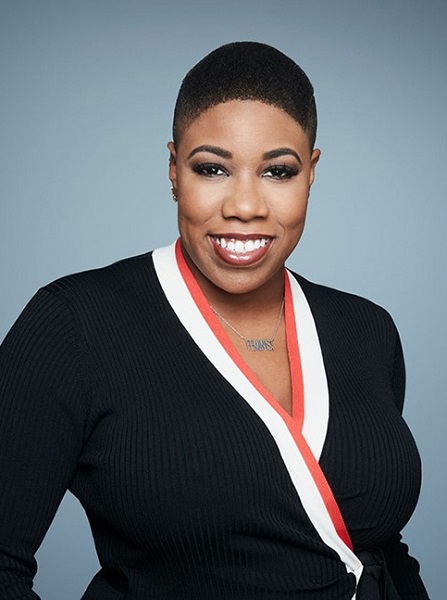 Shawn Townsend is the husband of Symone Sanders, an American political strategist, and commentator.
Symone Sanders served as national press secretary for Democratic presidential candidate Bernie Sanders during his 2016 presidential campaign.
Sanders was hired to be a democratic strategist and a political commentator by CNN in 2016.
Who Is Symone Sanders Husband Shawn Townsend?
Shawn Townsend is the husband of Symone Sanders and also the former D.C night mayor.
Townsend, the director of the Mayor's Office of Nightlife and Culture left his role in mid-July. The reason behind leaving his role was to work for a day job in the private sector that he has not specified at the moment.
Shawn, the first-night mayor, spent much of his time handling complaints about the city's reopening plan, according to a Washington Post profile on him.
'I'm happy to be leaving nightlife in a place where things are back open and people can get back to work,' Shawn told City Paper.
Prior to that, Symone's husband had been on the other side of the nightlife industry. He served for years as an investigator and supervisor within D.C.'s Alcoholic Beverage Regulation Administration.
Before that, he was a compliance officer with the D.C. Office of Complaints.
Politician, Symone joined the 2020 presidential campaign of former vice president Joe Biden as a senior advisor.
After Biden won the election, Sanders was named senior advisor and chief spokesperson for vice president, Kamala Harris.
Meet Symone Sanders Parents And Family
Symone Sanders was born to her parents; father Daniel Sanders, and mother Terri Sanders.
Her dad Daniel is retired from the U.S. Army Corps of Engineers while Terri, her mother is the former publisher of the Omaha Star.
Terri is also former executive director for the Great Plains Black History Museum. Sanders wanted to grow up to host her own television show since she was a child.
She attended Creighton University and earned a bachelor's degree in business administration.
Is Symone Sanders Related To Bernie Sanders?
Symone Sanders is related to Bernie Sanders professionally. She joined Bernie Sanders 2016 Democratic presidential as the national press secretary.
She quit the Sanders campaigning 2016 and joined CNN as an analyst and commentator the same year.
Further, she joined the presidential campaign of former vice president Joe Biden.
Sanders was named chief spokesperson and a senior advisor for Vice President Kamala Harris on November 29, 2020.
In 2020, politician, Symone published a memoir, No, You Shut Up.