Does Evan Mcpherson Have A Wife? Girlfriend and Married Life, How Rich Is He Actually?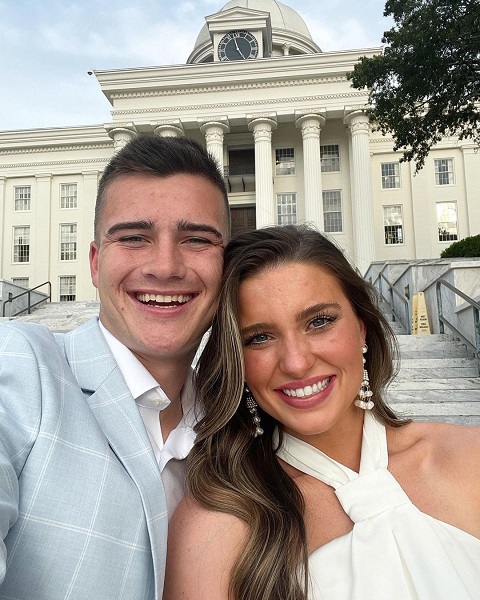 Evan Mcpherson's wife, Gracie Groat, has been on everyone's mind since he posted an incredible pre-wedding photoshoot with her. Continue reading the article to learn more about the athlets.
Evan Mcpherson is an American professional football kicker for the National Football League's Cincinnati Bengals (NFL).
Following his selection in the team's Divisional Round game against the Titans, his 52-yard game-winning field goal gave the Bengals a 19-16 victory.
Sending them to their first AFC Championship game since 1988.
Does Evan Mcpherson Have A Wife? Meet Gracie Groat
Yes, Evan Mcpherson has a future wife, Gracie Groat. He proposed to her on July 15, 2021, and she accepted. The couple posted a beautiful photo of him on his knee proposing to her on Instagram.
With the picture, Evan writes, "I will always love you, Gracie Groat!! You are my soul mate, and I couldn't have asked for a more perfect night than last night. You make every day special, and I can't wait for you to be my WIFE.
Similarly, Gracie expresses her overwhelming joy, faithfulness, and peace about the Lord's plans for their coming lives.
She writes, "Evan is the person I've been praying for the most. He's humble, calm, always pursuing, full of joy, and demonstrates the Lord's love to me every day.
From the beginning, I knew he was the one. Here's to pursuing this life together. I'm so excited to be your WIFE."
Gracie has not shared much about her personal life apart from the university she graduated from, which is Auburn University. You can follow her on Instagram to get to know more about her day-to-day life.
Evan Mcpherson Girlfriend Gracie Groat- Are They Married?
Evan Mcpherson and his girlfriend Gracie Groat are about to marry anytime soon. The pair have been in a relationship since Evan was in ninth grade and Gracie was in the eighth grade.
The couple is currently planning their married life since they finally got engaged in July 2021.
They both are thrilled to spend the rest of their lives with each other. Their recent photoshoot, in which Gracie wore a beautiful white gown and Evan wore a light pastel blue suit, has led their fans to believe that they will marry soon.
Furthermore, his fiancee has uploaded a slew of photos with the caption, "Let the countdown begin." I can't wait to get married to you.
All of their fans and followers are excited to see their idle couple getting married.
However, they have yet to announce their wedding date. We will update you with more detail on their wedding as soon as more information is made available.
How Rich Is Evan Mcpherson Actually? His Salary
Evan Mcpherson has become a wealthy man after signing a four-year contract with the Cincinnati Bengals. His basic salary for the year 2022 is $825,000 including an $85,928 signing bonus.
Similarly, in 2021 his total salary was $660,000 with a bonus. McPherson currently plays for the Cincinnati Bengals in the National Football League, the country's senior football league.
Likewise, his salary in 2023 and 2024 is shown to be $940,000 and $1,055,000, according to the contract he has signed.
Since his draft to the team, he has been making an exceptional performance for his teammates.
The Cincinnati Bengals advanced to the AFC Championship Game after defeating the Tennessee Titans 19-16 at Nissan Stadium on Saturday. All thanks to a game-winning field goal by rookie kicker Evan McPherson.