Is Hallmark Actor Tyler Hynes Married? Meet His Girlfriend Racquel Natasha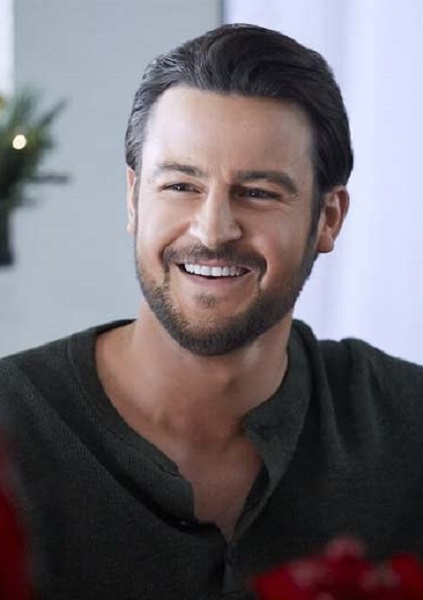 Racquel Natasha was first reported to be dating Tyler Hynes in 2018. Is she a wife yet?
Tyler is an onscreen prince charming lover. He is popular as David from It Was Always You-Hallmark, where he gets caught up in a Love triangle with Elizabeth (Erin Krakow).
Now, fans also want to know about Hynes's real life love interest.
Who is Racquel Natasha? Meet Tyler Hynes Girlfriend
Racquel Natasha is the rumoured girlfriend of actor Tyler Hynes.
Hynes has a pretty private love life. In fact, the paparazzi has never captured the Hallmark star with any partner.
However, Tyler did reveal his alleged girlfriend on his Instagram in 2017. He posted a picture of his lover beside a pumpkin and a dog with the caption "missing my girls". But, Hynes soon deleted the picture for some reason.
Nevertheless, fans identified the mystery girl as Racquel Natasha. Racquel is a commercial model and works for various professional brands.
It is not clear where and when did the couple met, as they seem low-key about their relationship status. Moreover, Tyler has never pubically ackowlegded his romantic status with Racquel.
Is Racquel Natasha Tyler Hynes Wife?
Racquel Natasha is yet to become wife to Tyler Hynes.
Both partners are pretty much in the prime time of their career right now. This may be why Racquel Natasha and Tyler Hynes are still not married yet.
Nevertheless, the relationship seems pretty serious. Tyler has even disclosed that his girlfriend has his Twitter password, which is a pretty huge deal in today's era.
Apparently, Hynes wants his girl to open his social media, whenever she likes. He stated, "Oh yeah, my girlfriend opened up my Twitter the other day. She told me I had so many followers on this Twitter account".
We might not be pretty far from the day when Tyler will marry his girlfriend - potentially Natasha. But, at the moment both are bachelors.
Is Tyler Hynes married in real life? Dating life of Hallmark actor
Unlike his TV persona, Tyler Hynes is not married in real life.
After his appearance with Erin Krakow in the Hallmark movie, "It was always you", many speculated that co-stars might be dating in real life. The social media pictures further escalated the gossips.
Furthermore, Erin and Tyler have openly praised each other. Their chemistry reportedly sparked they met each other for the first time.
However, to David and Elizabeth's shipper's disappointment, the real-life actors are not dating. They just happen to be good artists.
The last time we checked, Natasha and Tyler were dating in 2018. But, their status in 2021 is still not known.