Who Is Barbara Grassley? Chuck Grassley Wife Children and Family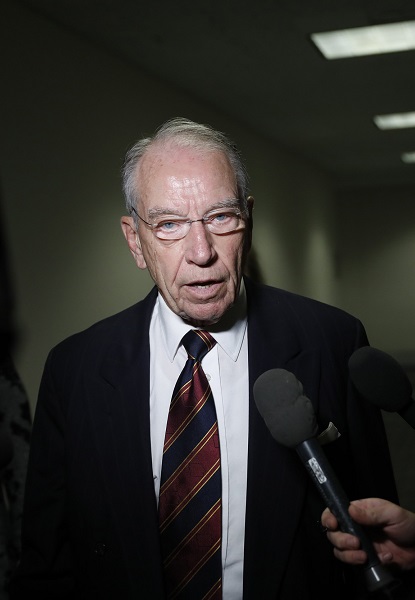 Barbara Grassley is the wife of the well-known politician Chuck Grassley. Here are details to be followed on chuck's married life and family.
Chuck is an American politician who has served in the United States Senate as president pro tempore emeritus and as the senior United States senator from Iowa since 1981. He was initially elected to the Senate in 1980 and is now serving his seventh term.
Grassley is one of only two remaining senators who served during Jimmy Carter's administration, Vermont's Patrick Leahy.
Throughout his four decades in the Senate, he has chaired the Senate Finance Committee, the Senate Judiciary Committee, the Senate Narcotics Committee, and the Senate Aging Committee.
Barbara Grassley- Chuck Grassley Wife
Chuck Grassley's wife is Barbara Grassley. The Grassley couple has been married to each other for the past 67 years.
The old couple is known for their love of chemistry and romance. Their long-term marriage is taken as the model by some youth.
Barbara is known for being the spouse of the celebrity. Although she has been the politician's wife for the longest time, she always enjoyed her personal space away from the unnecessary limelight. She always pulled her nose out from the unwanted controversy.
Barbara Grassley's maiden name was Barbara Ann Speicher. She changed her surname after marrying Chuck. The beautiful couple tied their knot on August 22, 1954.
Barbara celebrates her birthday every October 21. Her zodiac sign is Libra.
Mrs. Grassley was diagnosed with breast cancer, and she got her surgery in 1987. Thankfully, her surgery was successful, and she got rid of cancer.
Details on Chuck Grassley Children
Chuck Grassley and Barbara Grassley have five children. They have named their children Lee Grassley, Robin Grassley, Jay Grassley, Wendy Grassley, and Michele Grassley.
He has a grandson who is in the political field. His grandson's name is Pat Grassley. Pat is the Iowa State Representative from the 50th District. Pat has served in the Iowa House of Representatives since January 2007.
Pat has three children, which let Chuck having at least three great-grandchildren.
Meet Chuck Grassley Beautiful Family
Looking over the family, Chuck Grassley was born to his parents Ruth Corwin and Louis Arthur Grassley.
His mother, Ruth, was born on November 17, 1897. likewise, his father, Louis, was born on March 13, 1900.
Chuck grew up on a farm in New Hartford, Iowa. He received his high school diploma from the local high school. Meanwhile, In 1955, Chuck graduated from Iowa State Teachers College with a B.A.
He earned his master's degree in 1956 in political science. Chuck was a member of the social-professional fraternity Alpha Gamma Rho throughout his time as a student.
Chuck started a Ph.D. program in political science at the University of Iowa but never finished it. Chuck was a professor at Charles City College from 1967 to 1968.