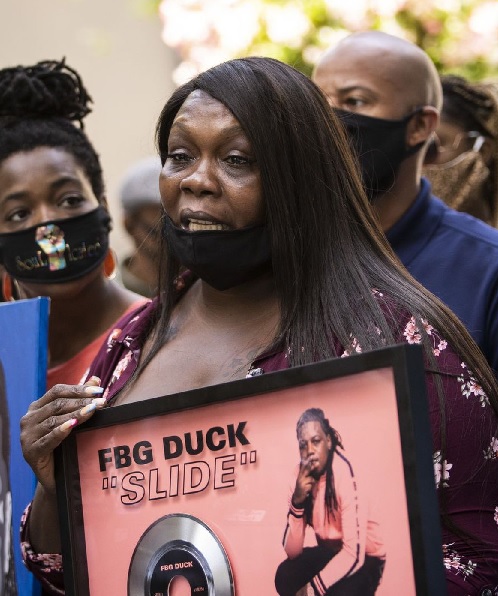 The Late Rapper FBG Duck's mom is on Instagram with a high number of fans and followers. Learn her real name and every other information here.
She has dedicated her Instagram page to her late son, she called herself that hottest underrated rapper's mom. She wanted to let her son's legacy live through her.
FBG Duck was just 26 years of age when he was killed last year. He was shot dead on August 4 in brazen broad by four gunmen who rolled up in two cars.
FBG Duck Mom/Mama Instagram Name: Her Real Name
FBG Duck's mom is also a social media sensation. She is active on Instagram under the user name @blacknsexy1. Her name is La Sheena Weekly.
She is a blogger having 56.8K followers and 3080 posts as of Oct 2021. Her posts show clearly how much she misses FBG Duck Rapper.
LaSheena Weekly Cries: I Begged FBG Duck Not To Retaliate After Brother Killed (Video) https://t.co/9ihI2PJ3JD pic.twitter.com/wE05HkgECa

— PaperChaserDotCom (@PaperChaserBlog) September 13, 2020
She appears in multiple interviews. When her son was killed, the following day she pleaded for peace in the city of Chicago. The rapper was going shopping.
He wanted to purchase gifts for his young son when he was shot to death. His brother, FBG Brick was also died out of a killer shot in 2017.
La Sheena said, "As his mother, I want to say please put the guns down so that the generation tomorrow can grow and live a long and healthy life."
More on FBG Duck Killer
After the death of FBG Duck, The Chicago Police Department issued a warning against possible attacks. To retaliate Duck's death youngsters were asked to stay indoors.
FBG Duck was a member of the rap group called "Fly Boys Gand". Most of the FBG members are associated with the Gangster Disciples known as Tooka Gang.
His real name was Carlton Weekly and he was famous for his single slide, popular in the underground Chicago rap scene. Five people were under custody for FBG Duck's death.
There is a YouTube Video where LaSheena rejoices in the arrest of his son's killer. The names of the killers were Muwop, Cthang, and DQ.
Learn About the Incident to FBG Duck
It was a shopping attack on FBG Duck. He was shot in the retail shopping district. At local time 16:30 four people who were in a car came, shot him, and fled.
The incident happed in the Gold Coast area, a luxury and boutique shopping district near the city's downtown. The shoot to death cases has been increasing.
As we can hear such news every alternate day and many celebrities have lost their lives and their family became the victims.
The other people who accompanied Duck were also hit by the gunfire and they were taken to the hospital for treatment as per police.