What Happened To Chloe Lukasiak Girlfriend Nose? Brooklinn Khoury Injury Update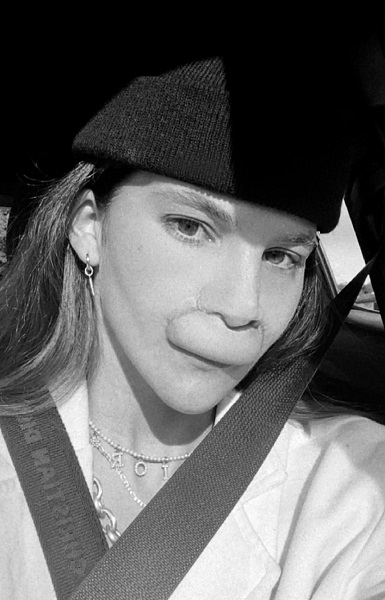 Chloe Lukasiak's girlfriend Brooklinn Khoury's nose and top lip were bit and ripped off by a pit bull breed. Learn more about the incident.
Despite Brooklinn Khoury's severe injuries, the skater is making the most out of her life and recovering from the brutal attack.
Brooklinn is majorly known as the celebrity girlfriend of actress, dancer, author, and model, Chloe Lukasiak.
Moreover, the pro skateboarder Khoury first met Lukasiak last year just a few days before a pit bull attacked according to a new interview with People.
What Happened To Chloe Lukasiak Girlfriend Brooklinn Khoury Nose?
Chloe Lukasiak's girlfriend Brooklinn Khoury, a 22-year-old skater from Southern California suffered a life-altering incident that changed her life.
Brooklinn was visiting her cousin in Gilbert, Arizona on 3 November 2020, when she was attacked in the face by a pit bull.
She met her cousin's 8-year-old dog many times before but was shocked when he attacked her after she leaned closer to pet him.
Her whole top lip and edges of her nose were completely ripped off by the dog. Brooklinn was standing, and the dog was sitting and he just sprung up.
As she recalled, the dog was directly hanging like arms, legs dangling off of her lip. Her first instinct came and she got on the ground with him, held his head, go wherever he went.
When it finally let go, there was a lot of blood on her shirt. She was then immediately rushed to the hospital but the doctors informed her that they were unable to reattach her upper lip.
Brooklinn Khoury Injury Update: How Is Her Face Now?
Brooklinn Khoury has been updating about her injuries in her Instagram account, the aftermath of the attack, and documenting her road to recovery.
When Khoury was taken to the hospital, it took eight hours to finally go to surgery at 9:00 pm. Her lip was on the ice the whole time and the facial surgery took around two hours.
Though all this happened, Khoury still did not lose hope and forced a positive entry into her life. She has decided to look on the bright side of things instead of being depressed about her situation.
She admitted that the first time seeing her face after the surgery was scary. But she did not divulge into paranoia and embraced the new version of her.
Meet Brooklinn Khoury On Instagram
Brooklinn Khoury can be found on Instagram as @brookhoury. Her incredible journey and her fight for her looks have gained her massive fan followers.
Khoury has more than 163 thousand followers on IG and her life experience has been the inspiration of many people.
Moreover, she even wants her fans to know that they are not alone if they're going through something like this.
Khoury also shared a video of herself looking in the mirror for the first time after the incident.
She said she was in shock but was grateful for the people around her and her ability to continue to skateboard.