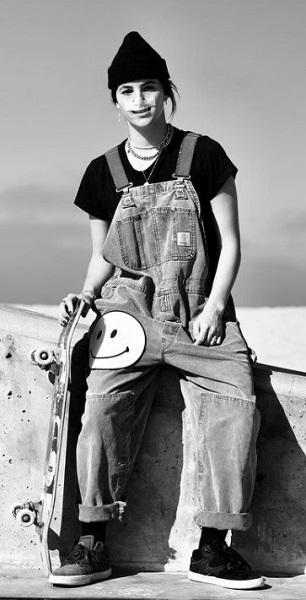 Brooklinn Khoury is currently trying to live the best of her life despite her injuries. Here is an update on her.
Brooklinn Khoury, the girlfriend of dance mom star Chloe Lukasiak, is a skater. They were rumored to be dating recently after being spotted in their Instagram posts sharing tender moments.
Khoury was attacked by a pitbull unexpectedly while she was visiting her home in Arizona. She recounts the incident to be life-changing. She hasn't the incident take her confidence; instead, she has come as stronger than before.
Brooklinn Khoury's Injury Update - How is She Doing these Days?
Brooklin Khoury is a 22-year-old skater who is a living example of living fearlessly. In November 2020, she was attacked by a pitbull during her visit to her home in Arizona.
The attack left her disfigured, but that incident didn't stop her from being inspirational to people with stories similar to her. She has been quite active in sharing about this part of life on her social media handles.
In her Instagram, she shares her portraits, skating skills and even bared her bandages for her 37.7k followers to see. Brooklinn's pain during her injury ordeal should have been challenging.
The brave skater opened up on her social media page about the incident. Brooklinn says it's crazy how life can change so drastically in a matter of few seconds.
She is doing well for herself, with love and support all around her. She takes the positive side of the attack and says instead of hiding what happened, she will be brave to post more face photos, and she knows she is loved and beautiful in many ways.
What happened to Brooklinn Khoury?
Brooklinn Khoury is a jolly young woman. A pitbull attacked her. It hasn't been said how the pup was triggered to do such harm. But in a split second, Brooklinn's upper lip and parts of the nose were gone.
She was finally sent to surgery after 8 hours of what had happened. Though her injured lip was kept in ice, doctors could reattach the part and left her disfigured.
Opening about her injury and recovery journey in her youtube channel, she is optimistic she will have reconstruction surgery and be back as before. Fans have opened a gofundme page for her reconstruction surgery as well.
Brooklinn Khoury and Cloe Lukasiak Dating history
Brooklinn Khoury and Chloe Lukasiak are dating. Though, anything hasn't been confirmed by either of the party. Their Instagram page tells a different story.
The couple shares cute pictures of them and has seen holidaying with each other. As reported by Daily Mail Online, fans were questioning their dating history after they were seen in a post holding hands.