Images | Who Is Sidney Poitier Wife Joanna Shimkus? More About Their Daughters And Children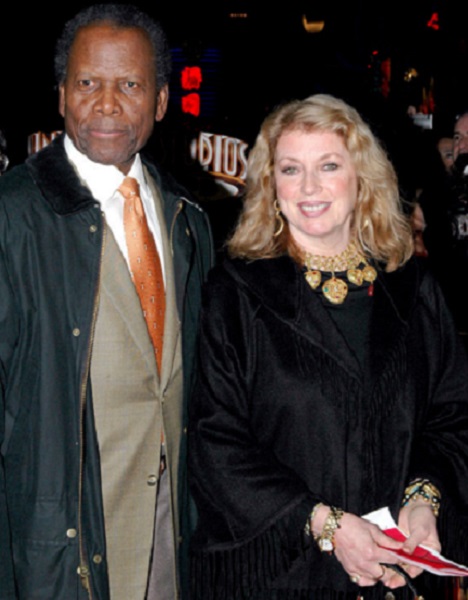 Joanna Shimkus is the wife of late American actor and film director Sidney Poitier.
Sidney Poitier is also an activist and ambassador. His sudden demise was devastating for everyone who knew him.
Bahamian Minister of Foreign Affairs Fred Mitchell released the news but did not add further information about his death.
Sidney Poitier Wife Joanna Shimkus is An Actress
Joanna Shimkus, the wife of Sidney Poitier, is also a Canadian film actress of Lithuanian origin. She was born to a Lithuanian-Jewish father and an Irish Catholic mother in Halifax, Nova Scotia.
Her father was a Royal Canadian Navy officer. She grew up in Montreal, where she attended a convent school. She moved to Paris at the age of nineteen to work as a fashion model, where she quickly caught the eye of movie producers looking for new talent.
In 1964, she made her cinema debut in Jean Aurel's De l'amour. After that, she gained the attention of film director Robert Enrico, who cast her in three of his films: Les aventuriers, Tante Zita, and Ho!
She starred in the films Boom! and The Lost Man, directed by Joseph Losey. In addition, she acted in films such as L'Invitée, The Virgin and the Gypsy, The Marriage of a Young Stockbroker, and A Time for Loving until the early 1970s.
Inside Sidney Poitier and Joanna Shimkus' 46-Year Marriage: 'We Were Just Destined to Be' https://t.co/LT2puhG8uK

— People (@people) January 7, 2022
She tied the knot with Sidney In 1976, with whom she would spend the remainder of her life. Her husband's death might have been painful and unimaginable. Thus, we would like to express our deepest condolences to her and her family.
Joanna Shimkus Husband's Life And Career Portrayed Through Images
The Washington Post paid tribute to Joanna Shinkus's husband, Sidney Poitier, to remember his journey through images from the beginning till the end. They showcased the moments from his great movies and the time when his work received appreciation and awards.
Sidney Poitier dies at 94. The first Black winner of a best actor Oscar, he changed the perception of African Americans in film. https://t.co/sgEoe3pDeI

— The Washington Post (@washingtonpost) January 7, 2022
He was the first black man to win Oscar for best actor. He died at the age of 94 on January 6, 2022.
Joanna Shimkus Has Two Daughters- Learn More About Her Children
Joanna Shimkus gave birth to two daughters after getting married to the late actor. Her children are Anika and Sydney Tamiia. Her daughter Sydney Tamiia is also a television and film actress.
She is a grandmother of three grandchildren. The two kids are from Anika and one from Sydney Tamiia.
Explore The Net Worth Of Joanna Shimkus Based On Her Wiki Profile
Joanna Shimkus's net worth is not specified on her wiki. However, her notable works and career life was explained thoroughly.
#SidneyPoitier, your last sunset with us is the dawn of many generations rising in the path of light you blazed. We will always hold you in our hearts and forever speak your name. 🙏🏼🙏🏼🙏🏼❤️❤️❤️ pic.twitter.com/hIKYCqM245

— Debbie Allen (@msdebbieallen) January 7, 2022
She may have wealth amounting to $1 million as per some sources. Moreover, there is no detailed explanation about her work after retirement from the movie industry.