Does Sara Ramirez Have A Child/Daughter? Know About Her Husband Ryan DeBolt And Family Status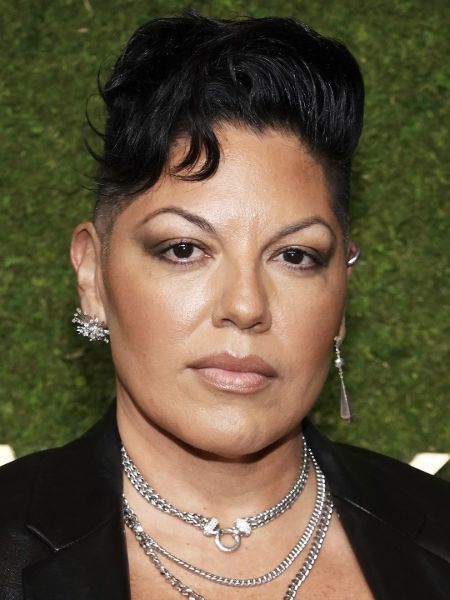 People might be wondering if Sara Ramirez gave birth to a daughter or not? Let's explore the personal life of Tony Award-winning actor down below.
Mexican actress Sara Ramirez grabbed the limelight with their portrayal in Paul Simon's The Capeman. Their breakthrough in the showbusiness rose when they played the original Lady of the Lake in the 2015 Broadway musical play Spamalot.
Does Sara Ramirez Have a Daughter?
Sara Ramirez has not given birth to any child until now. Some rumors that they welcomed an adorable daughter out of their wedlock. But, they denied that they had become parents of their baby.
Do you know? Sara donated their hair to 501(c)(3) charity foundation called Locks of Love in September 2016. The organization helps underprivileged children who suffer from medical conditions that eventually lead to hair loss.
In June 2011, Ramírez got engaged to their longtime boyfriend, Ryan DeBolt, a business analyst at TIMEC in Paris, France. They were married on July 4, 2012, in a private beachside ceremony in New York. pic.twitter.com/sUfVYYGYpF

— Kabir Ghale Gurung (@iamkabirghale) December 8, 2021
At the True Colors Fund's 40 To None Summit (now known as the Impact Summit), Ramirez declared LGBTQ and bisexual. The event took place in Los Angeles in October 2016.
Furthermore, Sara said their decision to come out publicly was "very organic and natural" in an email to The Huffington Post. They discovered nonbinary and used the pronouns she/they in August 2020 but switched to singular they in 2021.
Ramirez was in a romantic affair with an American businessman, Ryan DeBolt, for many years. In Paris, France, the duo finally got engaged after Mr. Debolt popped the question on June 17, 2011.
Grey's Anatomy actor Sara and TIMEC business analyst Ryan walked down the aisle on July 4, 2012. The couple's wedding was a low-key ceremony, attended by their close relatives, friends and family in New York.
Is Sara Ramirez Still Married To Husband Ryan DeBolt?
Sara Ramirez is separated and filed for divorce against Ryan Debolt in 2021. Moreover, the pair announced that they were no longer together through an Instagram post on July 2021.
In the post's caption, Ramirez stated that they would remain loving and supportive in choosing to forge their new individual paths. They thanked for holding space around their choices while respecting their families' privacy.
Not just that, Sara shared a picture of a couple of Pink Sylvia Dahlias, which defines their relationship. There are several growth states with lush, healthy greenery all around, just like in their marital union.
Meet Sara Ramirez Family!
On August 31, 1975, Sara Elena Ramirez was born to Mexican parents Luisa Vargas and Alberto Ramirez. Unfortunately, their parents separated after divorce citing irreconcilable differences when the transgender actress was only 8.
Ramirez and their single Mexican mother moved to Tierrasanta, San Diego, California, from Mazatlan, Sinaloa, North Mexico. From an early age, they had a keen interest in music. Later, they enrolled at the San Diego School of Creative and Performing Arts.
Following high school graduation, Sara pursued acting after discovering singing talent during an audition. They enrolled at the Juilliard School in NYC. Later, they earned a Bachelor in Fine Arts (BFA) in Theatre Acting.
How Much is Sara Ramirez Net Worth as of 2021?
Sara Ramirez boasts a lucrative net worth of $5 million in 2021. They have made impressive earnings throughout their acting and singing career.
Ramirez earned $125k to $150k per episode from the 2000's hit show Grey's Anatomy. They also garnered a handsome paycheque from her extended plays from her music album. Currently, their singles are peaked on U.S. and Canada charts.