Where Is Sandy Murphy Today? Ted Binion Murder Update, Is She Still In Prison/Jail?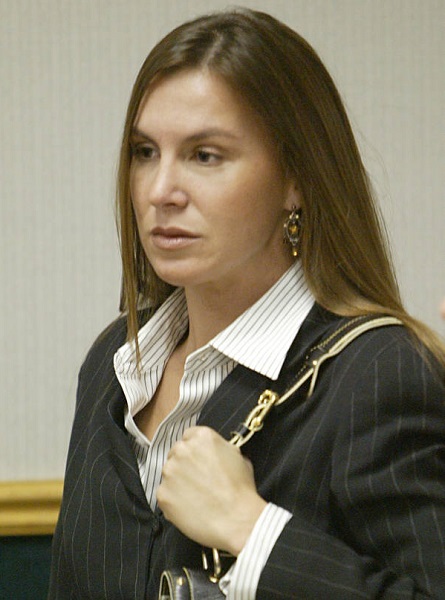 Where is Sandy Murphy today? She set out to clear her name ten years after the Ted Binion murder.
Murphy got convicted of the Ted Binion murder in 2000. She was called Las Vegas' most notorious femme fatale. She was found guilty of murdering her boyfriend, Ted Binion, in May 2020 after glaring testimony about drugs, greed, and domestic abuse.
The murder trials got televised, and several people tuned in to watch the most sensational case in Las Vegas history on Court TV. CBS premiered the story on 48 Hours Mystery, and the Discovery Channel released a documentary, Death in the Desert, on the case.
Where Is Sandy Murphy Today?
Sandy Murphy is living with her husband, Kevin Pieropan, in Monarch Beach. The couple got married in 2009, and they are the owners of a Laguna Beach Art Gallery. In her free time, Sandy goes boating, surfing, and golf.
The prosecutors alleged that Sandy and her secret lover, Richard "Rick" Tabish planned to kill Ted for his Palomino Lane house, the vault of silver, and other assets, reports Orange Coast.
She was sentenced at the McClure Women's Correctional Center, northeast of Las Vegas. When she was in prison, she dreamed about living near the Pacific Ocean.
I've photographed famed defense attorney John Momot since the 80's when he represented alleged mobsters. My favorite visual moments came during the Ted Binion murder trial when Sandy Murphy was his client. @HistoryNevada #LasVegas pic.twitter.com/efrDwpfExe

— Jeff scheid (@JeffScheid) April 17, 2018
A TV movie "Sex and Lies in Sin City," was released in 2008, and at least four books got published about the Ted Binion murder case.
Murphy has now taken up oil painting g and has created several abstract works. She is not living an affluent life which includes surfing fish on the beach and cooking fresh lobster at home.
Ted Binion Murder Update: Was Sandy Murphy Arrested?
Ted Binion was Sandy Murphy's boyfriend. He was found dead in his Las Vegas home on September 17, 1998, and his death has been a subject of controversy.
The Ted Binion trial…#lasvegas "Trial of the Century" and Sandy Murphy was the star…🌟 @LasVegasLocally pic.twitter.com/JBSHK7uRnI

— Wharfrat (@JamesHo03148924) April 17, 2019
Murphy and her lover Rick Tabish were arrested in June 1999 and charged with Ted's death. However, they got acquitted on the murder charges after being granted a new trial.
Is Sandy Murphy Still In Prison/Jail?
Sandy Murphy is no longer in jail. In September 2000, the judge sentenced Sandy to at least 22 years in prison on twelve counts. Her charges included larceny, burglary, and murder.
She was 28 years old at the time and was looking to spend most of her life behind the bars.
A year later, the jury acquitted her of murder in a retrial. In 2003, the Nevada Supreme Court overruled her convictions, citing judicial errors. After serving four years in prison, she got out in December 2004.