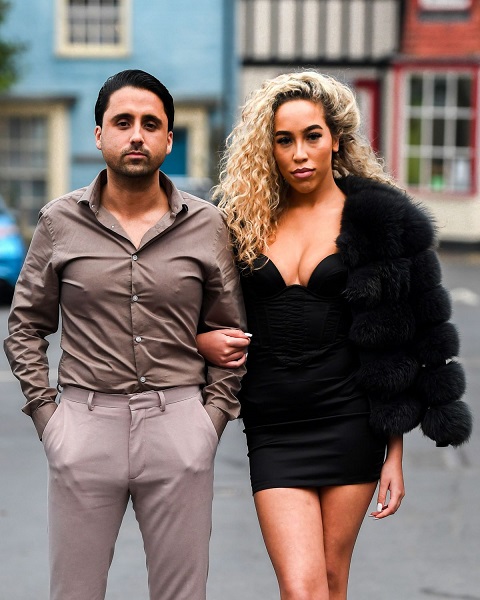 Dani Imbert aged 23 is the girlfriend of Towie star Gatsby. Here's everything to know about the new entry in TOWIE.
Imbert has been seen alongside TOWIE star Gatsby aka Liam Blackwell in recent days. There both started dating after Dani and Gatsby were fixed on a blind date by their common friend Rem.
Dani and Gatsby were last seen together while performing together at the Towie press night.
As viewers and creators gear up for the new installation of the show. Viewers are curious about what happened to Dani and Gatsby. And, who is Dani Imbert.
Dani Imbert
Age Difference With Gatsby
Dani Imbert is 23 years old as of 2021. Her birthdate is recorded on 3 April 1998. She is one of the youngest cast members of the series TOWIE.
Dani is known for being a reality Tv star. Debuting first in Season 28 of The Only Way is Essex in two episodes. Apart from reality Tv, she is a model and was discovered working as a receptionist at helpful Construction in Brentwood.
She might have a comfortable net worth estimation. Though official calculations haven't been made yet.
The 23 years old star is currently TOWIE star Gatsby. There have been questions on their age difference.
With Gatsby's age recorded 33 years old as of 2021. There's an age gap of 10 years between the duo.
Though the gap the couple seems to be happy together sharing PDA moments together on their Instagram handle.
Dani shared a picture of them together wishing Gatsby a happy birthday with a caption that reads, "Happy birthday to my darling <3 definitely did not expect to spend your birthday isolating & looking after you but oh well…….. to many more birthdays spent together".
Dani Imbert and Gatsby Dating History - Are they official yet?
Imbert and Gatsby met for the first time when Rem their common friend set them on a blind date. Their date was recorded on an episode of the show, Towie.
In the episode, Gatsby confessed that he had slid into Dani's DMs after liking every picture on her personal Instagram page. They seem to have started dating after their first date.
After dating for a year, fans are wondering if they are the real deal. Seeing them together in events and personal social media pages.
However, Dani has revealed in a video that the couple isn't official. Though Gatsby gushed to that Dani accidentally confessed she loved him when she was drunk.
Meet Dani Imbert on Instagram
Dani Imbert's Instagram handle name is daniimbert with 40.6k followers. Her bio reads her full name, Dani Kara Imbert, and the current show TOWIE.
She shares her day-to-day life and some sweet moments shared with Gatsby.