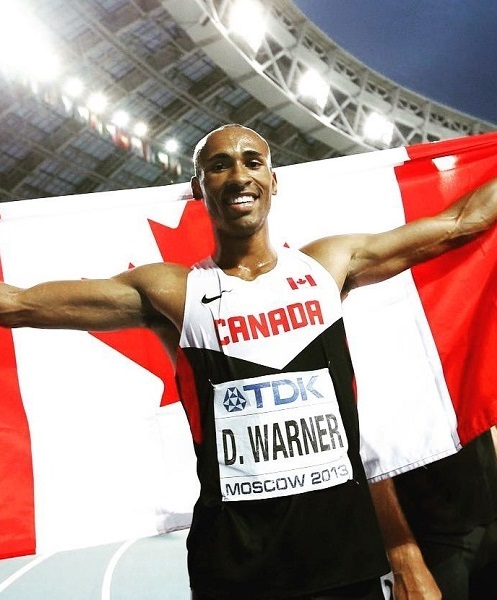 Does Damian Warner future wife is his girlfriend Jennifer Cotten. Recently they became parents to a baby boy. Find more updates about the couple.
Damian is a Canadian track and field athlete who specializes in the decathlon. He received a bronze medal in the 2016 Olympics, the first in the decathlon for a Canadian since 1988.
He has been a three-time medalist in World Athletics Championship, winning a silver and two bronze.
Similarly, Warner was crowned as 2014 Commonwealth champion and reigning Pan American Champion in the 2015 and 2019 games.
Furthermore, he is one of the renowned faces in Canada and has been regarded as the 'Canada's Favourite Athlete.
Damian Warner Wife Or Girlfriend
Damian's girlfriend is fellow athlete Jennifer Cotten.
It is not certain if the Olympian has made her his wife or not, but the couple has been together for a long time. The duo is currently residing in London, Ontario.
Like her partner, Jennifer is also an accomplished track and field athlete who has participated in various pentathalon and heptathlon events.
She competed for the University of Western Ontario, during which she has won a total of 13 U Sports Medal and was labeled as team MVP during five of those years. Cotton has also represented Canada in various international events.
Last October, the athlete was introduced as Western Mustangs Sports Hall of Fame.
The couple may have been together due to their love and passion for athletism. Both of them love to live away from the limelight and also are not much keen on sharing their life on social media.
They even managed to keep their pregnancy a secret and revealed it only after the birth of their son Theodore Phillip David Warner.
Are They Married?
No, Damian Warner and his girlfriend Jennifer Cotten are not married.
They welcomed their first child, on March 11 this year.
The world champion has always spoken very highly of his partner and even expressed much she has supported him during the biggest events of his life. He said that she makes him an Olympic book full of messages from his loved one for him to look at, which he only starts to read until after the competition begins.
He told Olympics.com, "I went through them, and I put all my measurements and little notes I had for each of the events in that book."
This year's Olympics was even more special for him since the birth of his baby boy, and the book included so much about him. He gladly mentioned that those little things were really special to him and helped him get through the pressure of the competition.