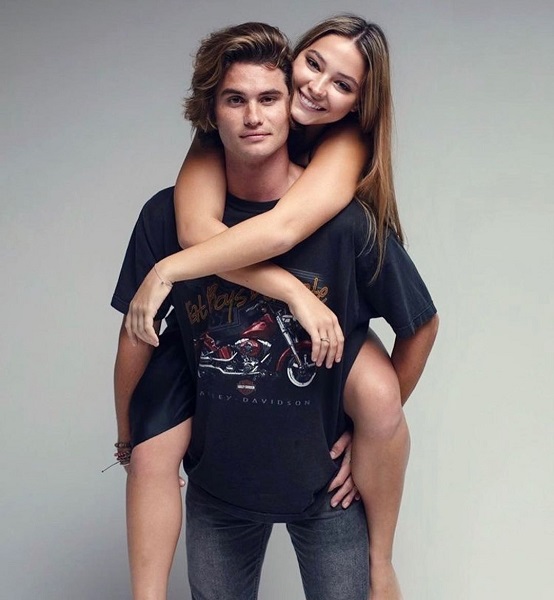 Is Chase Stokes Gay? The actor has proven that statement wrong by revealing that he is in fact dating his Outer Banks co-star Madelyn Cline. Get to know more about their relationship.
Chase is an American actor currently playing his role as John B in the Netflix teen drama series Outer Banks.
He had starred in several series before getting his big break in the Netflix show. He apparently has turned down his role but later changed his mind after looking at the script once more. Little did he know that the series would become famous and make him a household name.
Is Chase Stokes Gay?
Chase Stokes has never made any official statement saying that he is gay.
Since he already has a girlfriend, that rumor might not actually be true.
Who Is Chase Stokes Girlfriend?
Chase Stokes is currently dating his girlfriend, Madelyn Cline.
He confirmed that he is dating his on-screen girlfriend and co-star through an Instagram post in June 2020.
The actors first met while auditioning for their roles As John B and Sarah Cameron in the hit series and had incredible chemistry while playing each other's love interests.
Along with their other Outer Banks castmates, the couple was quarantining together in an apartment, which caused the speculation. The rumors about the actors being involved with each other spread further after seeing Stokes' flirty comments on Cline's Instagram.
All About Chase Stokes Partner: Madelyn Cline
Chase Stokes' partner Madelyn is also an American actor who became widely famous after becoming Sarah Cameron.
She, like her boyfriend, is a young and upcoming star and has already garnered positive reviews from her viewers. Apart from their TV show, Stokes and Cline have also starred in a music video called "Hot Stuffs" for Kygo featuring Donna Summers.
Cline had given Entertainment Tonight in November 2020 and addressed that she is in love with her boyfriend. She said, "It's really cool. Love is tight. It's cool to share this experience with your favorite people and also your favorite person. I feel very happy."
The couple's relationship seems to have only grown stronger with time, and they have been expressing their affection for each other on their social media.
The pair also received an award for the Best Kiss nomination in MTV's Movie & TV Award and even shared a passionate kiss on stage while accepting the award. The duo celebrated their first anniversary in April this year, expressing their love through an adorable Instagram post for each other.