What Is The Bing Chilling Meme Meaning? John Cena Lyrics and Translation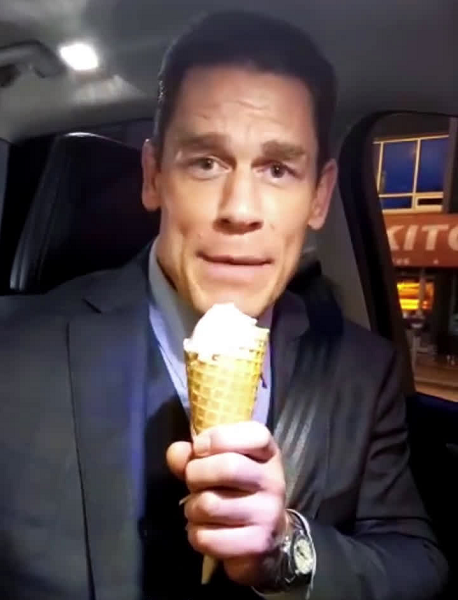 The Bing Chilling Meme is taking over the internet all thanks to John Cena. What is the meaning of the meme? Stay with the article to find out more about its lyrics and translation.
The Bing Chilling Meme is the latest meme to go viral on social media platforms, all because of John Cena. The wrestler recorded a video of himself while holding an ice cream. In the viral video, Cena speaks Mandarin sitting in his car with an ice cream in his hand while promoting his latest movie Fast & Furious 9.
John Cena, the face of meme culture, has done it again with his latest video to break the internet. Several YouTubers have altered the video with English subtitles to make it appear as if John was in a dreadful situation.
What Is The Bing Chilling Meme Meaning?
Talking about Bing Chilling Meme meaning, it is explained with something to do with a promo video that John Cena did for an ice cream called Bing Chilling. It is a part of an advertising campaign for the latest Fast and Furious movie.
On May 10, 2021, John made a video to promote his upcoming film Fast & furious 9. In the viral clip, Cena is speaking Mandarin, while singing into the ice cream as if it was a microphone.
BING CHILLING 🥶 pic.twitter.com/ZxI9AFgL6v

— ant (@kanamayeo) October 27, 2021
On June 2, 2021, a user ProximateSineYT reposted to hilarious video on YouTube. On June 6, 2021, another YouTuber Adrian, translated the video but had a few difficulties. Several YouTubers began to parody the video and made edits out of it.
People on Reddit have also commented on the viral meme.
John Cena Lyrics and Translation
As Cena speaks in Mandarin in the video, many people want its translation into English.
According to Know Your Meme, the lyrics are in Mandarin, and the translation of the video is "Good morning, China. Now I have ice cream. I like ice cream very much. But "Fast and Furious 9" is better than ice cream. "
Bing Chilling Viral Video And Reactions Revealed
John's viral hilarious meme has gained very positive reactions. The video has gone viral across the internet, and people have taken Twitter to share their reactions and thoughts about the hilarious Bing Chilling Viral meme.
I can't stop laughing at John Cena saying Bing Chilling omg pic.twitter.com/ZtFnrD18HY

— Wisaka Wikoto (@CEOofMisaka) October 10, 2021
One Twitter user tweeted if he can have $10 for some bing chilling. Another user tweeted that he has rewatched it around 500 times already and laughed every single time.