Who Is Anubis Finch Drag Race? Drag Queen Age Height and Instagram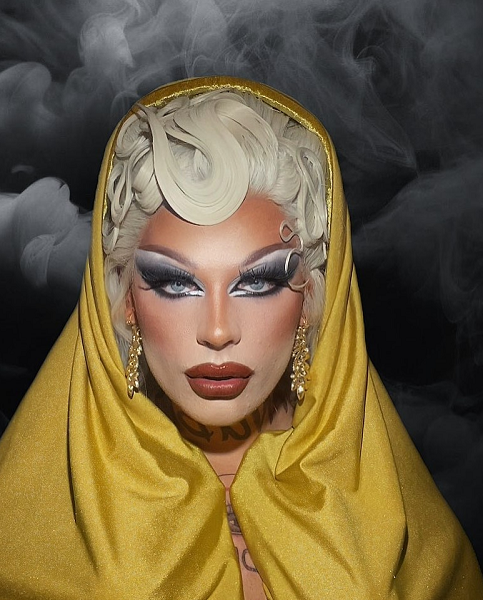 We barely got to know Anubis Finch, and now she is out of the Drag Race. Read more about the drag queen.
Anubis Finch was eliminated from RuPaul's Drag race. She holds the 12th position being the first one to put an end to her drag race.
The Season 3 of RuPaul's Drag Race UK was premiered on 23rd September. The winner is yet to be announced.
🚨 SPOILER ALERT 🚨

Every week I'm gonna be talking EXCLUSIVELY to the latest eliminated queen, first up let's chat the premiere with @AnubisFinch 💞💞💞 https://t.co/Xfag4d4Wy3

— Jordan-Lee (@Jordan_Lee) September 26, 2021
Who Is Anubis Finch from the RuPaul's Drag Race?
Anubis Finch is one of the 12 participants of RuPaul's Drag Race. She lost in her first Maxi Challenge which Krystal Versace won.
Anubis is the stage name for Charli Paul Frank Monét Finch. The name Anubis refers to an Egyptian god of the afterlife.
The drag performer pays tribute to her father, who came from Egypt. He died three years before Annubis made her Drag Race debut.
Even the entry quote of Finch pays homage to her roots. She introduces herself as the Queen of Pyramids but says she is not a Giza.
Her Favorite Thing look named Sea Creature was originally a tribute to her father. Judge Michelle Visage described the look as too golden and glittery.
But Anubis got much appreciation from panelists for her Queen of your Hometown look. Despite the judgment, she expresses that she has no regret and would not have changed a thing about her runaway looks.
Anubis Finch is one of the youngest Drag Queens of her age
Drag Queen Anubis Finch is just at the age of 20 years. She stands at an impressive height of 6 ft 4 inches.
She was just 19 years old when she was filming for the show. Krystal was another teenager contestant like her.
Ms Finch identifies herself as a bisexual. She hails from Brighton. Joe Black from the same hometown was also coincidentally eliminated on the first round of season 2.
Annubis comes from Egyptian ancestry from her father's side. Her dad was an Egyptian.
The drag queen prefers to be called she/her while on her drag and he/his or they/them out of her drag.
Follow Anubis Finch on Instagram
Annubis Finch is a popular Instagram influencer. We can find her under the handle name @anubisfinch.
She has accumulated a large fan base of 44.2k followers on her social media account. We can also stay up to date with her tweets under the username @AnubisFinch.
Her followers get to witness beautiful versions of her on social platforms. We also get the chance to see Annubis without her makeup.